Our Founder
His Holiness Sree Sudheer Guru, Our Guiding Light (1933-2003)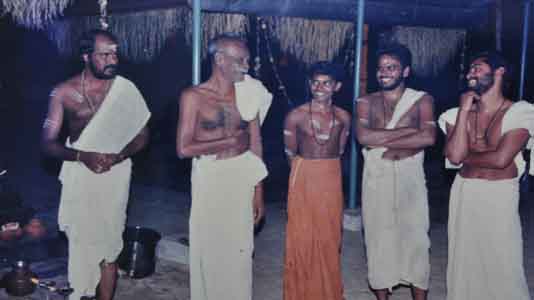 Om Guruve sharanam
One of the great saints of modern times, this renowned sage and humanitarian, this Selfrealized Master was an embodiment of love, humility and compassion. In his day to day life he was a miraculous healer to the sick, consolation to the emotionally challenged, spiritual guide to seekers of True Wisdom, helping hand to the poor and the helpless and a loyal friend to his friends. By his side you felt a "heavenly peace", you sat in the silence of your soul, listerning to his words of wisdom or him reciting the poems. His voice was so soothing, in its sweet melody your pains melted away, he filled you with peace and joy. Who was this giver of peace ? Who was this kind mystic? Was he the Eternal peaceful Shiva, or the compassionate healer Agasthya ? Or just an ocean of love and compassion wrapped by a fragile human body ? No one knows, yet all those who came to him was filled with happiness and peace. His presence was humble yet overpowering, slim, quiet, unassuming, he hardly looked the part he played in the lives of the many people he influenced. He was a mystic healer of the body and the mind. A holistic healer. His one look, one touch made you whole, his kind words vaporized your doubts, you stood wonder struck and transformed. Everything about him was intriguingly unique, if not special. Many cases deemed incurable by modern medicine were treated and cured by Him.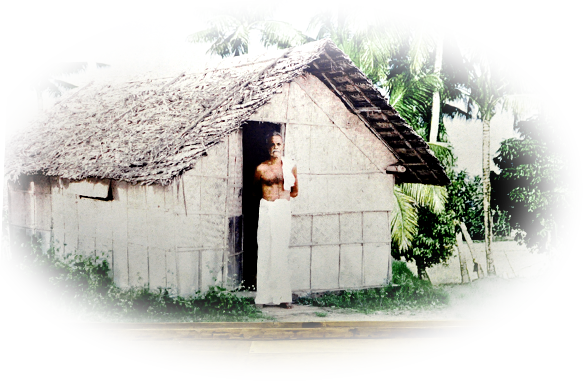 His secret spiritual aspiration had always been to build temples dedicated to Saints and Sages.He once said "All the sciences, including siddha and ayurveda medicine have come to us from our great vedic teachers, but we have not built any temples for them. The present and future generation needs a place where they can seek the blessings of these great souls, or at least have some notion of what they did". In 1991 he formed a charitable trust known as Agasthyasram, and bought five acers of land, built a temple for Maha Yogi Sree Agasthyar, the ageless Guru of Gurus, since then 12 other temples came up one by one and the entire temple complex was named "Agasthyasram" in His honor.The design of this unique temple construction represents a famous Vedic scene called "Naimisharanyam" in which wise men sit together in spiritual conclave for the benefit of all mankind. As a devotee enters the temple complex through the mainentrance to the south, he comes upon Dakshinamurti enshrined to north. In two facing rows to the East and West, twelve shrines, six on each side, house the images of saints and sages. Sree Sudheer Guru dedicated Agasthyasram to humanity, there are no boundaries of religion, nationality, color or caste.He respected all Religions, owned many religious texts from all known religions and would explain to you, the wisdom contained in them.
He always said these encouraging words to you, "Don't be afraid, be courageous, be happy, be always happy".
On February 5th 2003 he completed his life's mission and attained Samadhi. Certainly, Sree Sudheer Guru lives on in our hearts and as one more of Agasthyasram's illustrious inner-plane assembly of the Saints and Sages.
Today all of the projects that Sree Sudheer Guru set in motion are moving forward according to his vision, under the watchful eye of his disciple Dr. Yogidas and the charitable trust.
Sri Sudheer Vaidyan's five simple steps to happiness and success!
Love of God

Purity of heart

Unselfish service

Contentment

See God in all beings